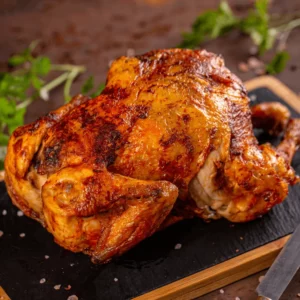 Tandoori Chicken
Tandoori chicken is a popular dish that originated in the Punjab region of India, which is now split between India and Pakistan. It is believed to have been invented by Kundan Lal Gujral, who ran a restaurant called Moti Mahal in Peshawar, Pakistan in the 1920s.
Ingredients
100

Ml

Cooking Oil

25

MG

Dhania Powder

50

MG

Mirch Power
Notes
Gujral is said to have developed the recipe as a way to make use of leftover chicken that had been marinated in a yogurt-based mixture and then roasted in a tandoor, a traditional clay oven. The resulting dish was a hit with customers, and it soon became a staple of Indian and Pakistani cuisine.
Today, tandoori chicken is enjoyed around the world and has been adapted to suit different tastes and preferences. While the traditional recipe calls for marinating the chicken in yogurt and spices before roasting it in a tandoor oven, there are now many variations that use different cooking methods, spices, and seasonings.
Ingredients:
1 whole chicken (about 3-4 pounds)
1 cup plain Greek yogurt
2 tablespoons lemon juice
2 tablespoons tandoori masala spice mix
2 teaspoons paprika
2 teaspoons salt
1 teaspoon cumin
1 teaspoon coriander
1 teaspoon turmeric
1 teaspoon garlic powder
1 teaspoon ginger powder
1/2 teaspoon cayenne pepper
2 tablespoons vegetable oil
Instructions:
Preheat your oven to 425°F.
Rinse the chicken inside and out, and pat it dry with paper towels.
In a mixing bowl, combine the yogurt, lemon juice, tandoori masala, paprika, salt, cumin, coriander, turmeric, garlic powder, ginger powder, cayenne pepper, and vegetable oil. Mix well until you have a smooth, even paste.
Using your hands or a brush, coat the entire chicken with the spice mixture, making sure to get it inside the cavity as well.
Place the chicken on a roasting pan or baking sheet, and roast in the oven for about 1 hour and 15 minutes, or until the internal temperature reaches 165°F. Check the chicken periodically and baste it with any remaining marinade.
When the chicken is done, remove it from the oven and let it rest for 10-15 minutes before carving and serving.
Serve the tandoori chicken with your favorite side dishes, such as rice, naan bread, or a cucumber and tomato salad. Enjoy!
Here are some potential health benefits associated with the ingredients in this recipe:
Chicken: Chicken is a good source of high-quality protein, and also contains important vitamins and minerals such as vitamin B6, vitamin B12, and zinc.
Greek yogurt: Greek yogurt is a good source of protein and calcium, and also contains probiotics that may be beneficial for gut health.
Lemon juice: Lemon juice is high in vitamin C, an antioxidant that may help support immune function and protect against oxidative stress.
Tandoori spice mix: Tandoori spice mix typically contains a variety of spices, some of which (like cumin and coriander) may have anti-inflammatory properties.
Paprika: Paprika contains vitamin A and other antioxidants, and may have anti-inflammatory and pain-relieving effects.
Garlic powder and ginger powder: Both garlic and ginger have been studied for their potential health benefits, including anti-inflammatory and immune-boosting effects.
Overall, this recipe contains a variety of spices and ingredients that may have potential health benefits, particularly when consumed as part of a balanced diet. However, it's important to note that individual health needs and requirements may vary, so it's always a good idea to consult with a healthcare provider or registered dietitian for personalized nutrition advice.